3ds Max/Guides/Config/Fallout
From NifTools

I've seen enough people not having configured the 3ds max exporter in such a way to make things easy to use that I thought I'd put together a brief overview of how I have set up my machine.
This guide is describes my person procedure for setting up extracted BSA folders and other settings to make the 3ds max and gmax importer and exporter work they way they were intended to work.
There is no one correct way to use the tools but this is my usage pattern so I will tend to make this work before any others.
Software
Software used during this procedure was 3ds Max, gmax, NifSkope, FO3 Archive Utility.
Download
The NifTools Max Plug-in can be downloaded from http://www.niftools.org. Click on the Downloads link in the navigation pane to download the latest release from the sourceforge website.
Basics
Unpacking the BSA files
Download FO3 Archive Utility from fallout nexus or use OBMM or your favorite BSA extraction tool.
Extract Fallout - Meshes.bsa and Fallout - Textures.bsa to a folder of your choice.
Extract All files to F:\Modding\Fallout3\Fallout - Meshes\ and F:\Modding\Fallout3\Fallout - Textures\ where you can pick the Drive and Folders. For me this means I have the folder F:\Modding\Fallout3\Fallout - Meshes\meshes and F:\Modding\Fallout3\Fallout - Textures\textures after the extraction process.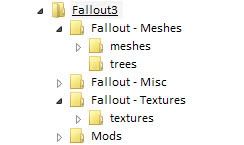 Installing 3ds max plug-in
Now install the 3dsmax/gmax plugin using the Installer.
Select Fallout 3 Custom Directory Option: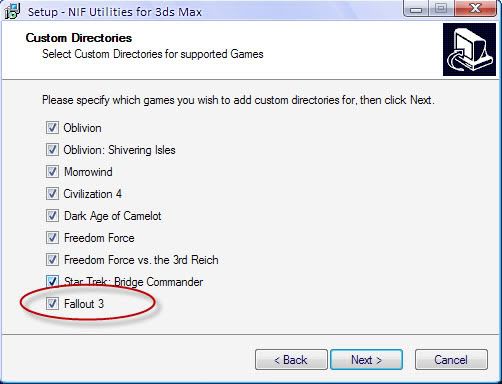 Next will bring up the directory folders:
These are hints to the 3ds max importer/exporter to where the textures and meshes are located. Only skeleton.nif meshes are currently looked up from this folder when importing rigged NIFs. The specified texture folder will be searched for textures when importing and when exporting the root texture path will be removed so that the nif does not have a fully qualified path saved in it.
The installer will remember these folders so if you install the latest version none of these folders are forgotten which is nice.
Note that the game data folder will always be searched as long as the game is properly installed.
If you wish to manually edit the C:\3dsmaxXX\plugcfg\MaxNifTools.INI file then you can see what the Installer changes.
If you like you could add additional Texture directories manually to the INI file. Though the installer will delete any customizations anytime it is reinstalled.
Confirm Proper Installation
Ensure that you have the NifTools plugin properly loaded for your version of Max. You should have the **Niftools Max Plugin** listed in the Plugin Manager which is located under the Customize menu by the name Plug-in Manager....